Today I will  show you the Cheapest LED Grow light for 2019. Seed Starting or growing vegetables or flowers indoors requires grow lights . Having a cheap grow light is a huge savings in terms of cost. For instance the initial cost of buying an LED grow light might be high but  in the long run you save money as a result of Electricity Savings for the long term (led light bulbs consumes far less electricity than other light bulbs). 
         I was shopping around for a cheap grow light system and I stumble upon these extremely cheap led bulbs at Walmart and I decided to use them on my new indoor greenhouse. I can tell you its is cheap and above all it works.
       This is a great grow light system for gardeners who are new to seed starting, indoor gardening and greenhouse gardening because firstly it is very cheap, You don't have to worry about spending a lot of money on some thing you might not like or know how to properly use it. so it does not become one more item you have to storage or start looking for how to get rid of it. 
Secondly it is very easy to put together, if you can replace a light bulb, you can do this.
Thirdly if you don't want to use the light to grow plants, you can use it to do other home projects.
 This post contains affiliate links. If you purchase a product or service with the links that I provide I may receive a small commission. There is no additional charge to you! Thank you for supporting 7Savings.com…
If you are just beginning to use grow lights or just looking for more options or more grow lights then you might want to start with a cheap grow light system and then may be latter if you really want you can buy the very expensive grow lights. 
The expensive spectrum grow lights typically are higher quality lights and as a result they typically yield the best results.
But you don't need to buy those expensive grow lights if you are just using it for a month or two to start seeds and If you are a beginner, you will likely want to start with a lower priced option to get your feet wet.
after that Once you are more experience and more comfortable with the grow process then you can decide if you want to spend more money on those expensive grow lights.
Some grow lights go as high as hundreds of dollars. The technology for grow lights has also improved greatly the past few years. As a result the grow lights you got last year will not be as good as those of this year
Things to consider
The main things to look for when buying or making your own led grow system are:
Lumens: lumens is a measure of brightness of the light. the higher the lumens the brighter the light, the better result you might get.
Kelvin: Kelvin refers to the type of light produced or the color temperature (you want to mimic daylight) the higher the kelvin the better.
Watts: Watts is a measurement of the electricity used
LED grow light should be operating for at least 10-12 hours a day.
Starting seeds or growing vegetables you will need a grow light which is powerful enough to cover the grow area where your plants or seedlings are going to be. The area may differ depending upon the size of your grow station.
Where to get the Cheapest led grow light
The cheapest LED grow lights I have seen so far are these led light bulbs and clamp lights at Walmart. The clamp lights are $6.47 at 
Walmart and the is the biggest expenditure your are going to make on the Led grow lights. 
The next item you need is Great Value 100w or 150w led light bulbs and regular led light bulbs go for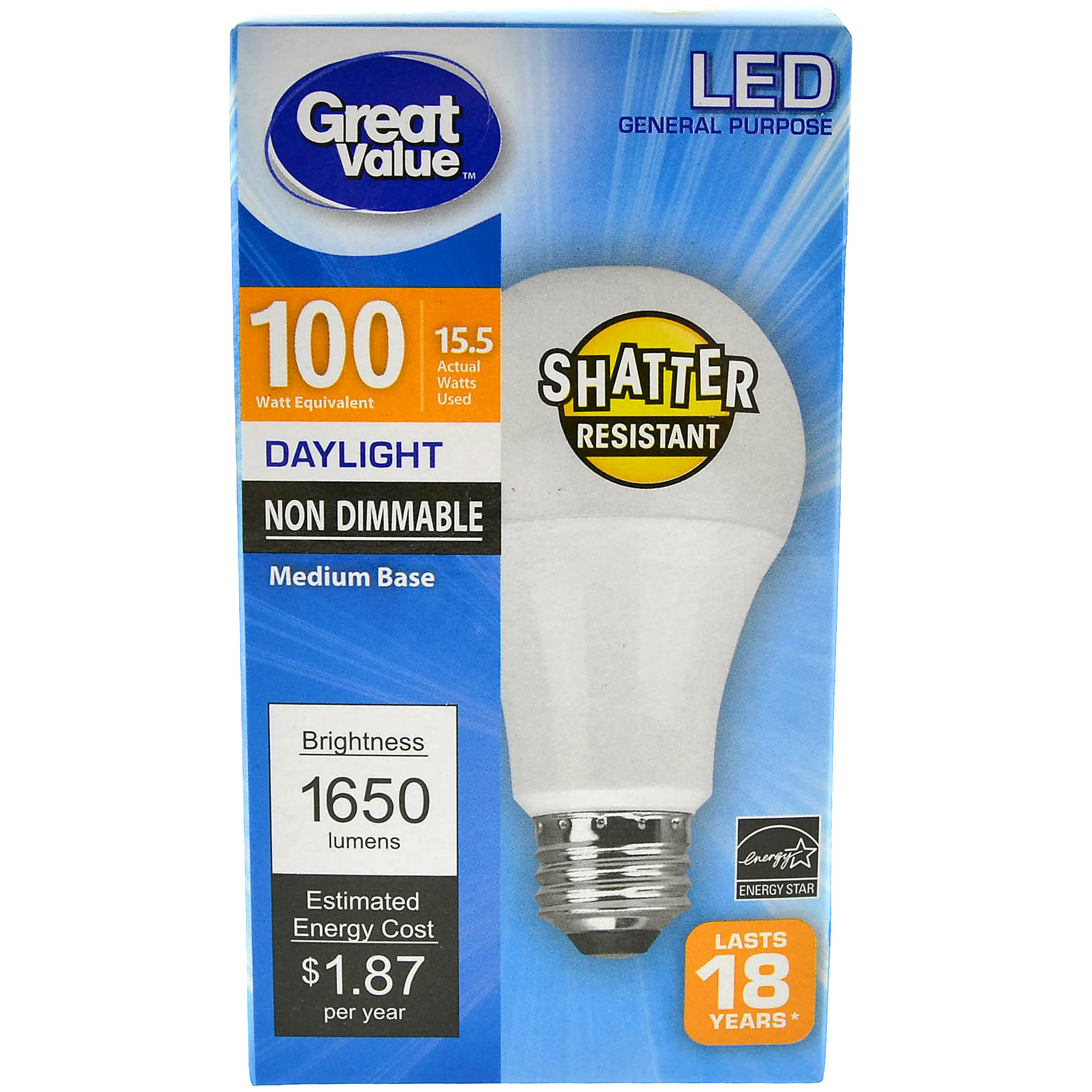 about $15 and guest how much you will get a 100 watt led light bulbs for this project? .97 cent.
    Yes that is right, I have found 97 cents 100 watt LED light bulbs at Walmart  in some stores. Online they have it for about $3.97 which is still very cheap compare to the others that are $20.
Therefore the total cost for my led grow light is
8.5" clamp light     = $6.47
Total  = $7.44
$7.44 is less than half the price of a regular led grow lights. Therefore I bought 2 sets to setup my seed starting setup. If you want the larger one The 10.5''  Clamp Light cost $10.97  at Walmart at Amazon it was $16.99 when I last checked.
In conclusion if you can get these grow lights this cheap and still be able to start your seeds or  grow plants indoors, why would you buy the expensive ones?

LED Grow Light Setup
     All you need to do is to attach the bulb to the light Clamp just as you would attach any other bulb and the clamp the light to a fixture that will hold the lamp above your plants. for Seed starting the grow light should be 2 and 4 inches above the plant. For other regular plants  the grow light can be higher depending on the plant and its need for light.
    For seed starting I leave the light on for about 12 to 18 hours. so the plants get enough sunlight and grow healthier.
Tip: Get an Electric timer and plug your grow light into the Electric timer so you don't have to worry about turning the Grow light(s) on and off everyday. 
Thanks for reading and watching, be sure to share this information with your friends and family using the social share buttons on the right . See you on the next article.